For Todd Lindquist, Coworkers are Like Family
Longtime Renewal by Andersen champion Todd Lindquist honored with Lifetime Achievement award
If you ever pay a visit to Renewal by Andersen's headquarters in Cottage Grove, Minnesota, it probably won't be long before you run into Todd Lindquist. Lindquist, an 11-year contract employee, is known for his infectious enthusiasm, incredible work ethic and his ability to remember you by your first name. Your middle and last names, as well.
Cottage Grove employees love him. He loves them, too. So, it was only fitting that when Lindquist accepted a permanent, full-time job offer from Renewal by Andersen this winter, everyone celebrated with cake, coffee, and punch. "It felt good. I was really proud to have received this offer," he says. "This is the best Christmas I've had in quite a while. I went out with some friends and had pizza to celebrate."
Lindquist is a client of Lifeworks, a Twin Cities-based nonprofit that provides customized services for people with disabilities to help them to live full and meaningful lives. He works 20 to 22 hours a week doing everything from operating a floor scrubber in the plant to cleaning the eye-wash stations, delivering mail, replenishing copy machines with paper, and ordering office supplies. And it isn't unusual to find him picking up litter in the parking lot.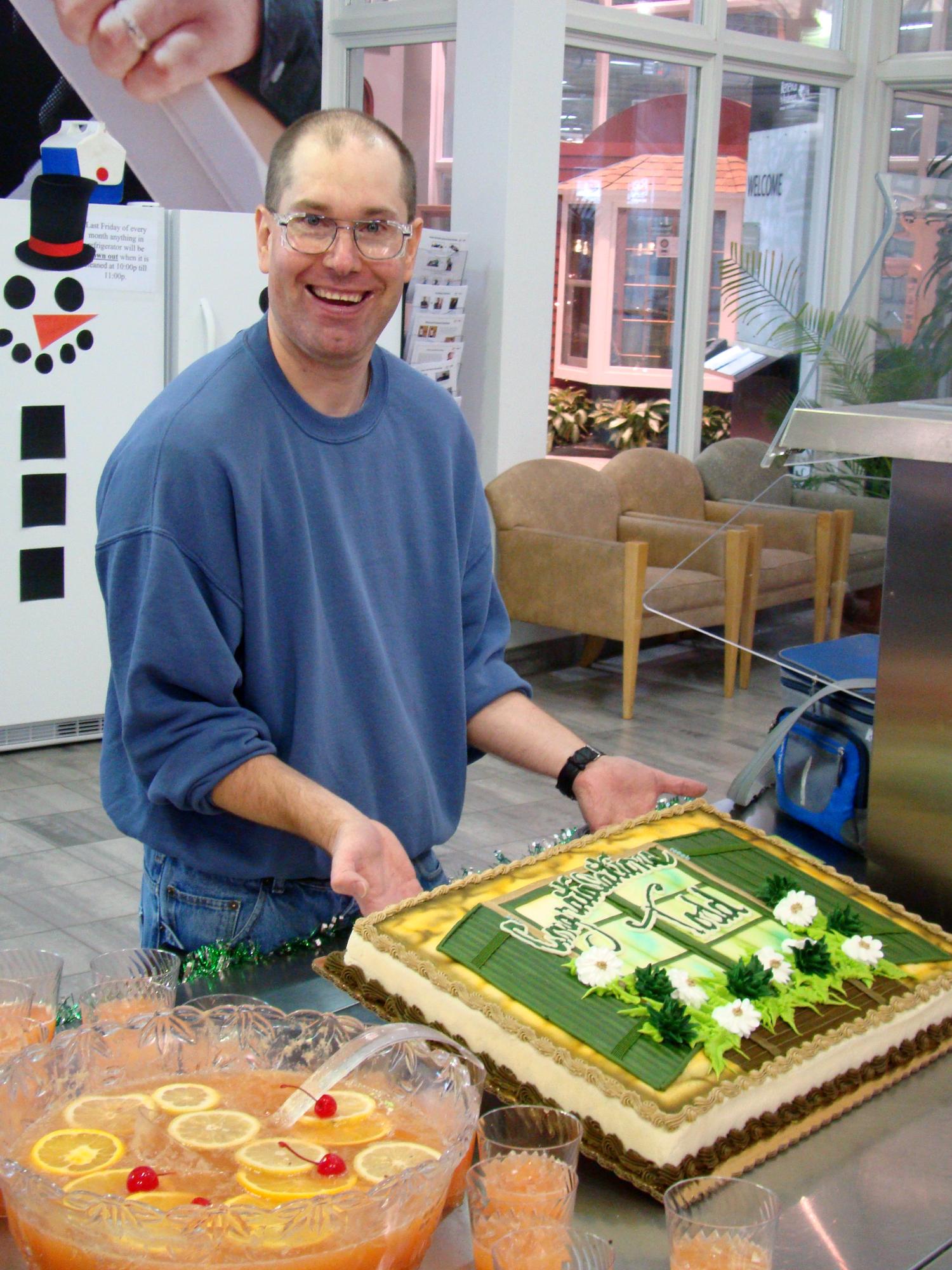 "I like the variety and I like the people," he says. "It is a very positive place to work. People are very encouraging. It's like family. It's a great family to be a part of!"
Plant Manager Rick Wynveen is an admitted cleanliness freak. When he joined Renewal by Andersen in 2007, he wanted to see a cleaner environment in the manufacturing area. Value Stream Manager Lori Nickleson suggested Lindquist would be a great fit for the role.
"Todd does have a driver's permit, so when I asked if he'd like the job of operating the floor scrubber, he was beyond excited," says Wynveen. "His goal was to work in production, and the floor scrubbing job allowed him to meet that goal."
When the Cottage Grove plant opened its newly expanded manufacturing space this spring, Lindquist's primary job became operating the floor scrubber—but he still maintains some office duties, ensuring he is able to network with everyone at the facility.
"He's just full of energy and excitement," Wynveen says. "Todd brings an enthusiasm to the organization that energizes people and adds to our Orange Frog culture – happiness is a choice. Plus, he has a very strong work ethic and does a really good job."
"He's always happy," concurs Executive Administrative Assistant Laurie Maul.
In fact, many employees like Lindquist so much, they bring him souvenirs from their vacations. "They are always thinking of him, even when they're on trips with their families," said Shari Kallem, a marketing services coordinator.
The promotion comes on the heels of another big announcement, this one from Lifeworks, the nonprofit organization that helped connect him with Renewal by Andersen. Lindquist learned that he was going to be honored with the Lifeworks Personal Achievement Award.
The award is presented annually to two individuals with disabilities who have made a considerable effort on or off the job to connect with the community, learn new skills, or grow socially, professionally, or emotionally. Honorees have often overcome obstacles, defied expectations, and stood out from their peers. It is a major accolade, and given to just two of Lifeworks' 2,500 clients each year. This year's ceremony was held at a downtown Minneapolis gala on April 21.
Chuck Elliott, job coach with Lifeworks, is one of several individuals who nominated Lindquist for the award. "Todd works approximately 20 hour a week, and [I think] in that 20 hours he does more than some people do in 40," he says. "He absolutely deserves this award—for his hard work, his commitment to long-term employment…for giving back to his community, and, if you know him, just for being Todd. Todd is a guy that is fun to work with and volunteer with."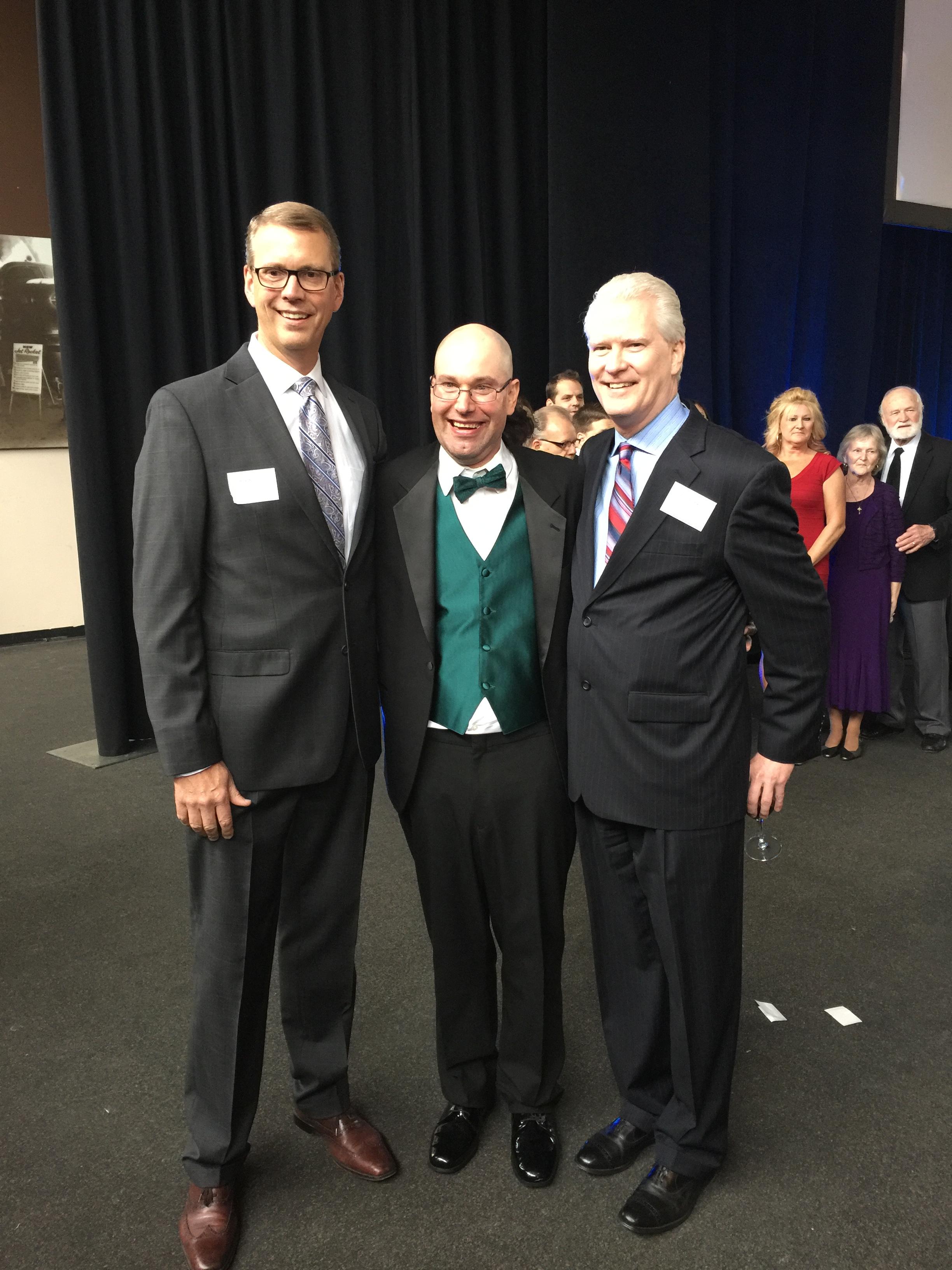 That's right—in addition to his career at Renewal by Andersen, Lindquist is also very active in the community, tackling the role of volunteer just as seriously as he does his day job. When Elliott invited him to come to a local Lions Club meeting just to check it out, he did—and then ended up joining.
"Since he joined," says Elliott, "Todd hasn't missed a meeting. He's helped the Lions at their biggest fund raiser (the Cottage Grove Strawberry Festival), volunteered at the Lions Supper Breakfast, for the Heritage Days festival, at the food basket program, the fishing program, the Lion's Christmas peanut-brittle making fundraiser, and many more… You ask him why, and he just says he 'likes helping out people who need it.'"
What others have viewed...

Step 1:
Design Consultation
Our design consultants provide in-home or no-contact virtual meetings to listen to your design needs and provide a plan to improve your home.


Step 2:
Measure & Manufacture
Project Technicians ensure accuracy and answer any last minute questions before sending in the order for your fully customized windows.

Step 3:
Installation
Our Installers treat your home as if it were their own and clean up afterwards.

Step 4:
Customer Care
A robust limited warranty is backed by a commitment to making sure your windows function as expected.