Renewal by Andersen Celebrates Grand Opening of New Expansion
Ribbon Cutting Ceremony held June 30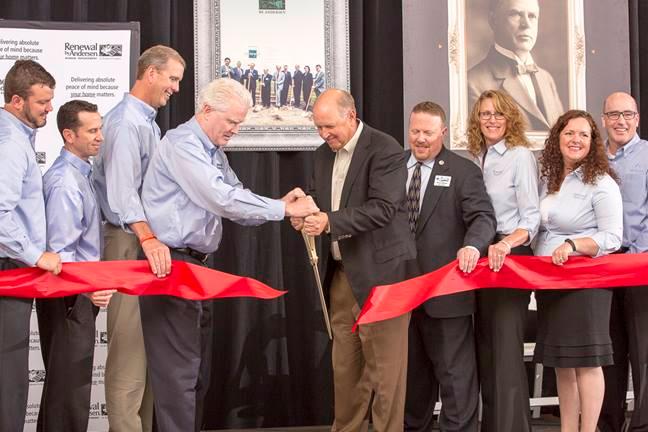 Renewal by Andersen corporate headquarters in Cottage Grove celebrated the Grand Opening of its newly expanded facility with a ribbon cutting ceremony Thursday, June 30. This was the first expansion since moving to this location in 1999.
"It was exciting to cap off our first 20 years with a groundbreaking ceremony last year," says Renewal President Paul Delahunt. "Thanks to so many of the great people and organizations who helped make today's celebration possible, we're ready to meet consumer demand for today – and for the next 20 years."
The expansion added 113,000 square feet to the manufacturing floor and 11,000 to the office space. The growth allowed Renewal by Andersen to create an additional 200 jobs, many of which have already been filled.
The expansion also supports Andersen Corporation's commitment to environmental responsibility. The building itself features high-efficiency LED lighting, an enhanced building-automation system with seasonally adjusted cooling, as well as more than 160 new RbA picture windows and A-Series doors. On the campus, nearly 200 trees were planted, a storm-water-management system installed, provisions for electric cars were added, and a percentage of surface parking spaces have been reserved for carpool parking.
The expanded facility was designed by RSP Architects and built with McGough Construction Company, the same team that led the building's initial design and construction in 1999.
"This isn't just a place we come to work or conduct business," explains Delahunt. "This is a community we're invested in, where many of our employees call 'home.' Without them, and the support of this community, none of this would be possible."
Watch the video here.
Want to know more? Check out some Renewal Expansion Fun Facts…
By the Numbers
What was the timeline?
From ground breaking to office occupancy, it was a speedy 217 days!
Approval: February 27, 2015
Ground Breaking: June 16, 2015
Construction Began: July 8, 2015
Office staff takes occupancy: January 18, 2016
Manufacturing takes occupancy: March 1, 2016
The project came in 1.5 months AHEAD of schedule (and under budget).
Some other important numbers:
200 new positions added as a result of the expansion
176 trees planted (along with 892 shrubs, bushes, and ornamental grasses)
163 new parking spaces
160 new RbA picture windows and A-Series doors
76 new work stations
5 executive offices
4 collaborative spaces
3 conference rooms
Touring the Grounds
Some of the new features/amenities/additions include:
New, open-office design featuring modern workstations, ergonomic electronic desks (standup/sit down), and collaborative spaces.
Two new employee lounge/cafeterias with patio seating
17 new docks
Additional lockers, employee showers/change room
Mother's Room
Parking lot expansion
It's Easy Being Green
Design honors Andersen Corporation's commitment to environmental responsibility
High-efficiency LED lighting throughout
Staged storm water management system
Just under 200 new trees, and close to 1100 new plantings altogether
High-efficiency Renewal by Andersen Windows
Electric car provisions
Enhanced building automation system and seasonally adjusted cooling
Car-pool specific parking
I Like Numbers…May I Have More?
How big is the addition?
The previous footprint of the entire facility was 225k square feet
175k in manufacturing
50k in the office
The total addition size was 124k square feet
113k sq ft in manufacturing
11k sq ft in the office
New facility size is 349k square feet
288k sq ft manufacturing (65% increase in mfg. space)
61k sq ft office (22% increase in office space)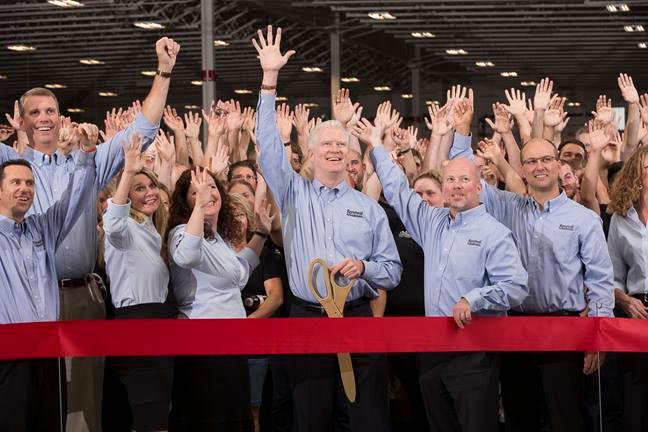 What others have viewed...

Step 1:
Design Consultation
Our design consultants provide in-home or no-contact virtual meetings to listen to your design needs and provide a plan to improve your home.


Step 2:
Measure & Manufacture
Project Technicians ensure accuracy and answer any last minute questions before sending in the order for your fully customized windows.

Step 3:
Installation
Our Installers treat your home as if it were their own and clean up afterwards.

Step 4:
Customer Care
A robust limited warranty is backed by a commitment to making sure your windows function as expected.