Renewal Spreads Cheer at Orange County Children's Hospital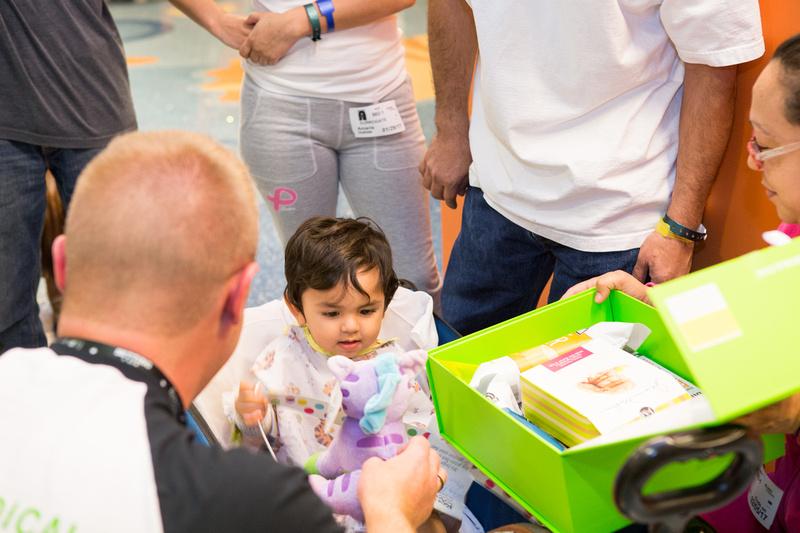 Orange, CA., 2017 – Representatives from across the Renewal by Andersen North American retailer network partnered with Cheeriodicals to assemble and deliver 248 "big green boxes of cheer" and 2 children's wagons to patients at Children's Hospital of Orange County (CHOC) on January 29, 2017.
Approximately 100 Renewal by Andersen employees, who were in town for the company's annual retailer summit meeting, volunteered their time to assemble the Cheeriodicals gift boxes and wagons, which were filled with magazines and activity books, room decorations, puzzles, stickers, and games for the children to enjoy.
"Other business units from our parent company Andersen Corporation have partnered with Cheeriodicals in the past for team-building events giving back to local children's hospitals. Seeing what a moving experience it is, and what a tremendous impact it has had for everyone involved. We wanted to give our team the opportunity to take part, as well," says Lisa Talbot, communications manager for Renewal by Andersen, LLC. "Since we have representatives from all across the U.S. and Canada here for our annual retailer meeting this week, this was a great chance to get the whole group involved."
Says Gary Parisher, President of Cheeriodicals, "We were thrilled to lead the Renewal by Andersen team to assemble the Cheeriodicals and wagons for delivery to the children at CHOC. Giving back is engrained in their corporate culture and we witnessed that giving mentality by their extended team throughout this afternoon of work."
After the gifts were delivered to the hospital, Renewal by Andersen and Cheeriodicals representatives began handing out the boxes to patient families at the hospital.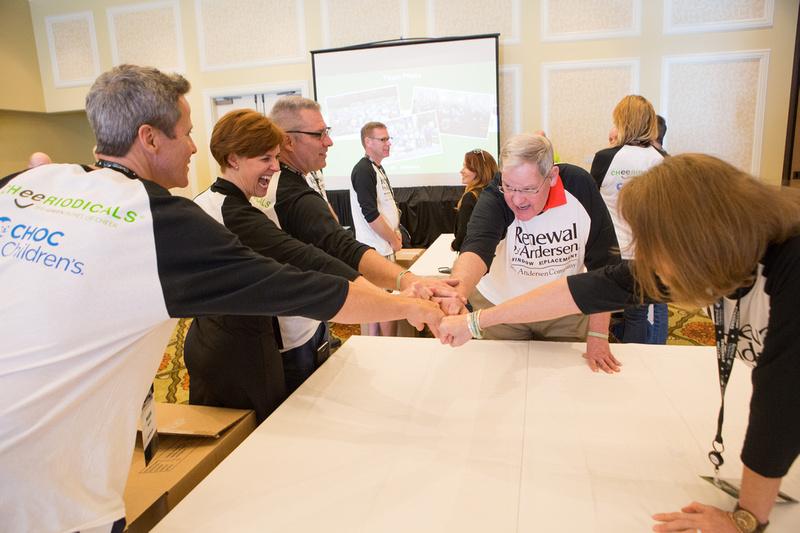 "We are thrilled to have Cheeriodicals and Renewal by Andersen supporting our patients and families at CHOC Children's," says Stephanie Chami, Child Life Manager, CHOC. "The boxes will not only bring cheer to our children, but a great deal of compassion and joy as well. Each box specifically made for the age of each child is a wonderful distraction in their day, a chance to forget about being sick and enjoy some fun with their family. The smiles and play that will be provided by the boxes encourage our patients to feel better."
Pitching in for the assembling and delivery of the Cheeriodicals was Renewal by Andersen president, Paul Delahunt. "Being a force for good in the communities where our employees work and live is one of the cornerstones of Renewal's values. Individually, our locations all across the country are committed to giving back, so to be able to all come together here, work as a team, and bring smiles to the kids at CHOC…we are so happy and grateful."
About Renewal by Andersen
Renewal by Andersen is the start-to-finish window replacement division of Andersen Corporation. The company offers a replacement process that includes an in-home consultation, custom manufacturing, and installation through one of the largest nationwide networks of window replacement specialists. For more information about Renewal by Andersen visit www.renewalbyandersen.com.
About Cheeriodicals
Cheeriodicals Day is catching on across the country. Cheeriodicals has worked with children's hospitals in dozens of markets nationwide including: Houston, Birmingham, Cincinnati, Chicago, Las Vegas, Atlanta, Fort Lauderdale, Columbus, New York, Minneapolis/St. Paul, and Los Angeles on Cheeriodicals Days and has plans to continue working with corporate sponsors to bring cheer to children's hospitals throughout the country.
Cheeriodicals is a national corporate team building company that conducts philanthropic events benefiting children's hospitals, Ronald McDonald Houses, Veterans Hospitals and other charities across the country. For more information about Cheeriodicals, Alabama Launchpad 2014 winner, visit www.boxesofcheer.com, or follow Cheeriodicals on Twitter and Facebook.
What others have viewed...

Step 1:
Design Consultation
Our design consultants provide in-home or no-contact virtual meetings to listen to your design needs and provide a plan to improve your home.


Step 2:
Measure & Manufacture
Project Technicians ensure accuracy and answer any last minute questions before sending in the order for your fully customized windows.

Step 3:
Installation
Our Installers treat your home as if it were their own and clean up afterwards.

Step 4:
Customer Care
A robust limited warranty is backed by a commitment to making sure your windows function as expected.