Andersen Corporation Earns 2017 ENERGY STAR® Partner of the Year – Sustained Excellence Award
Andersen has been named a 2017 ENERGY STAR® Partner of the Year – Sustained Excellence Award winner, the highest honor given for continued leadership in protecting the environment through superior energy efficiency achievements.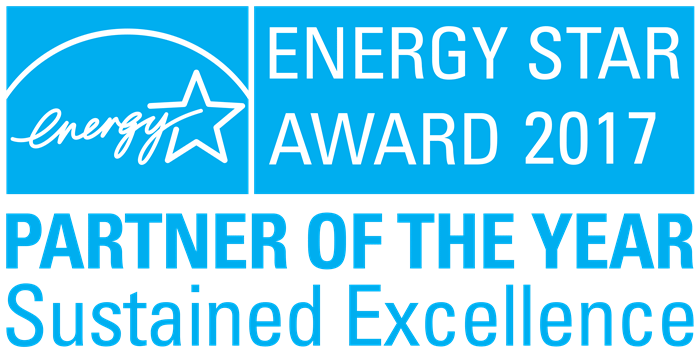 BAYPORT, Minn., April 6, 2017 – Andersen Corporation, including Renewal by Andersen, has been named a 2017 ENERGY STAR® Partner of the Year – Sustained Excellence Award winner, the highest honor given for continued leadership in protecting the environment through superior energy efficiency achievements. Andersen's accomplishments will be recognized by the U.S. Environmental Protection Agency and the U.S. Department of Energy in Washington, D.C. on April 26, 2017.
An ENERGY STAR® partner since the Windows program began in 1998, Andersen is known for its long history of leadership in producing energy-efficient products. Andersen was the first window manufacturer awarded the ENERGY STAR National Window Partner of the Year in 1999.
Andersen's leadership in energy efficiency is exemplified through products that have helped set industry standards for minimizing environmental impacts while maximizing energy efficiency, performance, and durability for customers. Andersen's dedication to promoting the ENERGY STAR program is centered on advancing energy-efficient products within its four major brands, and educating all stakeholders about the benefits of ENERGY STAR certified products and programs.
In 2016, Andersen's top three ENERGY STAR related accomplishments included:
Advancing energy efficiency ratings across the portfolio.

Andersen now offers products that are ENERGY STAR® v. 6.0 certified in the Northern Climate Zone; added PassiveSun® glass and HeatLock® coating to most product lines for greater energy efficiency options; and also increased sales of Andersen® A-Series products with triple-pane glass – recognized as Most Efficient of ENERGY STAR in 2017 with specific glass options.

Expansive outreach to consumers.

Andersen deployed a multi-faceted campaign to educate consumers about energy efficiency benefits. Specific tactics included social media infographic, bylined articles and educational videos. Andersen also worked directly with the EPA to develop an engaging in-home ENERGY STAR® Scavenger Hunt for kids.

Reducing operational energy use and increasing renewable energy

. Andersen Chairman and CEO Jay Lund launched a Chairman's Sustainability Award to recognize employees who deliver impressive environmental results. The winning site reduced its energy consumption by 20 percent through an LED lighting upgrade – helping Andersen to drive closer to an enterprise goal. Andersen also announced a subscription to up to 19 megawatts of solar energy through Xcel Energy's Solar*Rewards Community® program.
"Andersen is honored to receive the 2017 ENERGY STAR® Partner of the Year – Sustained Excellence Award," said Sal Abbate, Senior Vice President, Chief Sales and Marketing Officer, Andersen Corporation. "We are committed to educating consumers about the critical importance of selecting energy-efficient windows that last. The ENERGY STAR® brand helps consumers make wise decisions about energy efficiency throughout their home."
In 2015 alone, ENERGY STAR and its partners saved American businesses and consumers 503 billion kilowatt hours and $34 billion dollars on their energy bills, while achieving broad emission reductions.
"The 2017 Partner of the Year – Sustained Excellence Award reflects how Andersen employees bring to life our company value of corporate citizenship, and lead by example, reducing environmental impacts by making our operations more energy efficient," added Eliza Clark, Director of Sustainability and Environmental, Andersen Corporation. "Lowering energy consumption is a win for all of us and the right thing to do for the environment."
About Andersen Corporation
Headquartered in Bayport, Minnesota, Andersen Corporation and its subsidiaries manufacture and market window and door products under the Andersen®, Renewal by Andersen®, Silver Line® and American Craftsman® brands. Andersen was founded in 1903 and employs nearly 11,000 people in locations across North America. Andersen is a privately held company. Visit us at andersencorporation.com.
About Renewal by Andersen
As the start-to-finish window replacement division of Andersen Corporation, Renewal by Andersen's Signature Service is committed to giving you the best customer experience possible, through the perfect combination of the best people in the industry, a superior process and an exclusive product through one of the largest nationwide networks of window replacement specialists. For a complimentary in-home consultation, or to view more information about Renewal, by Andersen visit renewalbyandersen.com.
About ENERGY STAR
ENERGY STAR® has 16,000 partners working to protect the environment through greater energy efficiency, including manufacturers, retailers, public schools, hospitals, real estate companies, and home builders. Since 1992, ENERGY STAR and its partners have saved American families and businesses $430 billion on their energy bills and 4.6 trillion kilowatt-hours of energy, while achieving broad emissions reductions—including 2.8 billion metric tons of greenhouse gas emissions. For 25 years, EPA's ENERGY STAR program has been America's resource for saving energy and protecting the environment. Join the millions already making a difference at energystar.gov.
ENERGY STAR" is a registered trademark of the U.S. Environmental Protection Agency.
"Solar*Rewards Community" is a registered trademark of Xcel Energy Inc.
"Andersen" and all other marks where denoted are trademarks of Andersen Corporation and its subsidiaries. All rights reserved.
What others have viewed...

Step 1:
Design Consultation
Our design consultants provide in-home or no-contact virtual meetings to listen to your design needs and provide a plan to improve your home.


Step 2:
Measure & Manufacture
Project Technicians ensure accuracy and answer any last minute questions before sending in the order for your fully customized windows.

Step 3:
Installation
Our Installers treat your home as if it were their own and clean up afterwards.

Step 4:
Customer Care
A robust limited warranty is backed by a commitment to making sure your windows function as expected.