Energy Star Partner of the Year Award Sustained Excellence
Andersen Corporation Continues Leadership in Energy Efficiency
Andersen Corporation Earns 2018 ENERGY STAR® Partner of the Year – Sustained Excellence Award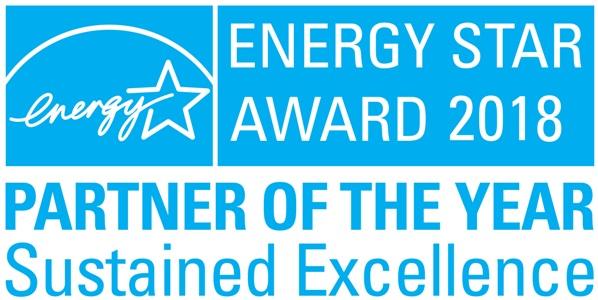 BAYPORT, Minn., April 2, 2018 – Andersen Corporation, including Renewal by Andersen, has been named a 2018 ENERGY STAR® Partner of the Year – Sustained Excellence Award winner, the highest honor given by ENERGY STAR for continued leadership in protecting the environment through superior energy efficiency achievements.
Andersen's accomplishments will be recognized by the U.S. Environmental Protection Agency and the U.S. Department of Energy in Washington, D.C. on April 20, 2018.
Andersen has been an ENERGY STAR® partner since the Windows program began in 1998 and was the first window manufacturer awarded the ENERGY STAR National Window Partner of the Year in 1999. The company's leadership in energy efficiency is exemplified through products that have helped set industry standards for minimizing environmental impacts while maximizing energy efficiency, performance and durability for customers. This is Andersen's fourth Sustained Excellence Award and the ninth time the company has been recognized by the ENERGY STAR program.
"Andersen is proud to be recognized for our leadership in energy efficiency and commitment to the ENERGY STAR program," said Jay Lund, Andersen chairman and CEO. "Our longstanding commitment to the ENERGY STAR program aligns with core aspects of our company's mission to lead our industry by creating different and better products and to build brands people value and trust."
Andersen's ENERGY STAR program is centered on advancing energy-efficient products within its four major brands, and educating all stakeholders about the benefits of ENERGY STAR certified products and programs. In 2017, Andersen expanded its portfolio of ENERGY STAR certified models by adding seven models, including its new MultiGlide™ door. Andersen now has 328 product models certified in at least one climate zone.
"With ENERGY STAR certified products across the breadth of our portfolio of products, Andersen offers customers the benefits of energy-efficient windows and doors at all price points," added Eliza Clark, director of sustainability and environmental for Andersen Corporation. "The ENERGY STAR mark is the gold standard for energy efficiency that our customers know and trust. We are proud to align with the EPA to leverage that brand awareness to help drive environmental impact reduction on a national scale."
In addition to developing and promoting energy efficient products, Andersen is committed to reducing energy use across its operations. The company has an enterprise goal to reduce its energy use by 20 percent by 2020, using 2013 as a baseline.
"The 2018 ENERGY STAR Partners of the Year have demonstrated real leadership, showing how American families and businesses can save energy, save money, and reduce air emissions," said Bill Wehrum, EPA Assistant Administrator for Air and Radiation.
In 2016 alone, ENERGY STAR certified products, homes, buildings, and plants helped Americans save over $30 billion in energy costs and approximately 400 billion kilowatt-hours of electricity and while achieving broad emissions reductions.
About Andersen Corporation
Headquartered in Bayport, Minnesota, Andersen Corporation and its subsidiaries manufacture and market window and door products under the Andersen®, Renewal by Andersen®, Silver Line®, American Craftsman®, EMCO®, Weiland®, MQ™, and Heritage brands. Andersen was founded in 1903 and employs more than 12,000 people with manufacturing sites in North America and Europe. Andersen is a privately held company. Visit us at andersencorporation.com.
About Renewal by Andersen
As the start-to-finish window replacement division of Andersen Corporation, Renewal by Andersen's Signature Service is committed to giving you the best customer experience possible, through the perfect combination of the best people in the industry, a superior process, and an exclusive product through one of the largest nationwide networks of window replacement specialists. For a complimentary in-home consultation, or to view more information about Renewal by Andersen visit www.renewalbyandersen.com.
About ENERGY STAR
ENERGY STAR® is the simple choice for energy efficiency. For over 25 years, EPA's ENERGY STAR program has been America's resource for saving energy and protecting the environment. Join the millions already making a difference at energystar.gov. More background information about ENERGY STAR can be found at energystar.gov/about and energystar.gov/numbers.
Thousands of industrial, commercial, utility, state, and local organizations—including more than 40 percent of the Fortune 500®—rely on their partnership with the U.S. Environmental Protection Agency (EPA) to deliver cost-saving energy efficiency solutions. Together, since 1992, ENERGY STAR and its partners have helped save American families and businesses over $450 billion and over 3.5 trillion kilowatt-hours of electricity while also achieving broad emissions reductions—all through voluntary action.
Renewal by Andersen Media Contact:
Adam May
651-264-5006
adam.may@andersencorp.com
"ENERGY STAR" is a registered trademark of the U.S. Environmental Protection Agency.
"Andersen" and all other marks where denoted are trademarks of Andersen Corporation and its subsidiaries. All rights reserved.
What others have viewed...

Step 1:
Design Consultation
Our design consultants provide in-home or no-contact virtual meetings to listen to your design needs and provide a plan to improve your home.


Step 2:
Measure & Manufacture
Project Technicians ensure accuracy and answer any last minute questions before sending in the order for your fully customized windows.

Step 3:
Installation
Our Installers treat your home as if it were their own and clean up afterwards.

Step 4:
Customer Care
A robust limited warranty is backed by a commitment to making sure your windows function as expected.