How to Clean Windows and Screens in 10 Easy Steps
Keep your window insect screens and glass sparkling with these tips from the experts!
Spring is here, and with it comes everyone's favorite activity…spring cleaning! Okay, it may not be everyone's FAVORITE, but we all realize it's a necessary evil when getting your home ready for summer.
Warm, gentle breezes blowing, a clear blue sky overhead…here are a few tips to help you get the most out of the season and the view by making sure your window glass and insect screens are spotless.
I screen, you screen…
...we ALL love clean insect screens!
The best way to tackle dusty/dirty screen depends on the type. If you have standard aluminum insect screens: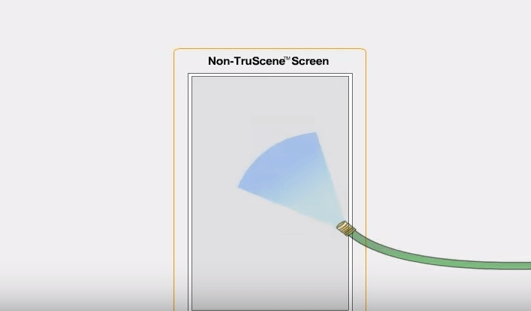 Gather supplies—garden hose, soft-bristle brush, mild cleaning solution, tarp or other ground cloth (optional), microfiber towel.
If desired, place a tarp or drop cloth down on the ground to set drying screens on.
Carefully remove screens, gently brushing off any large bits of debris or cobwebbing.
Spray with garden hose (nozzle on a low-pressure setting) for a basic, quick cleaning.
For extra shine and a super clean view, follow the rinse-off with a scrub. Use a mild soap and water solution and a soft-fiber brush. Gently clean with the brush in a circular pattern from top to bottom.
Rinse well with garden hose.
Remove excess water by carefully shaking each screen and wiping with a towel or microfiber cloth. To help with drying, lean at an angle against a wall or set on a tarp, preferably in a sunny area.
Once dried, inspect the screens again to ensure that they have not accumulated any dirt or insects from sitting outside. When you are satisfied that they are fully cleaned, replace them in their respective windows, making sure to lock hardware.
If you have TruScene® insect screens the process is slightly different. TruScene® screens are made from a micro-fine stainless steel wire mesh with a tighter weave than standard aluminum insect screens. They offer over 50% more clarity than our standard aluminum insect screens to let more fresh air and sunlight in while keeping the insects out. To keep your TruScene® insect screens looking their best: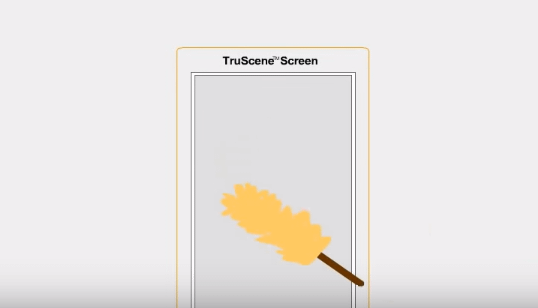 Gather supplies—wool, feather, or synthetic duster or soft cloth.
Carefully remove screens.
Use duster or cloth to wipe down screens. (DO NOT use a hose or water.)
Replace screens, making sure to lock hardware.
That's it—you're done!
I can see clearly now, my glass is clean!
Ready to brighten your view? Follow these steps to clean the glass surface:
Gather supplies—microfiber or other soft cloth (2-3); mild cleaning solution; squeegee.
Wipe loose dirt and grime from the glass with a soft, dry cloth or duster.
Apply a cleaning solution, such as mild soapy water, a white vinegar and water solution, or a liquid window cleaner to the glass.
Wipe with a soft cloth in a circular motion, beginning at the top of the window.
Immediately remove the cleaning solution with a squeegee or a clean, lint-free cloth. Use a cloth to wipe the squeegee dry after each swipe.
To minimize glass-cleaner residue on the glass, do not clean in direct sunlight. Instead, try cleaning windows on cloudy, but dry days.
ALWAYS AVOID solvents, abrasive solutions, or razor blades in order to avoid damage to the glass.
Enjoy beautiful, streak-free views!
For more tips, check out this video guide on cleaning your window insect screens, download our guide, or visit Renewal by Andersen's Window Care & Maintenance page. Happy Spring Cleaning!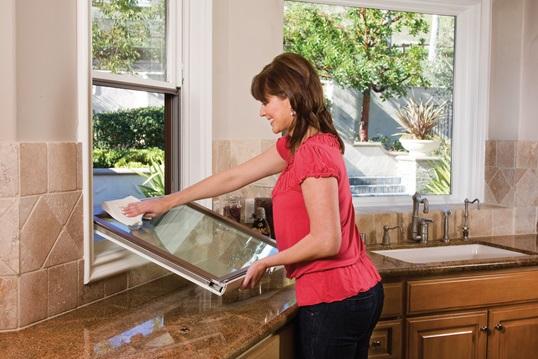 What others have viewed...

Step 1:
Design Consultation
Our design consultants provide in-home or no-contact virtual meetings to listen to your design needs and provide a plan to improve your home.


Step 2:
Measure & Manufacture
Project Technicians ensure accuracy and answer any last minute questions before sending in the order for your fully customized windows.

Step 3:
Installation
Our Installers treat your home as if it were their own and clean up afterwards.

Step 4:
Customer Care
A robust limited warranty is backed by a commitment to making sure your windows function as expected.