How Our Team Spent #GivingTuesday 2016
In celebration of the holiday season, Renewal by Andersen locations throughout the country are inspiring you to give your time, your money, your skills, or your voice this #GivingTuesday.
The holiday season is upon us. It's a time to be thankful, reunite with family, and carry out traditions. But with the increasingly popular shopping days we all know (some of us too well) as Black Friday and Cyber Monday, it can be easy to forget the true meaning of the season.
Enter #GivingTuesday.
Aimed at kicking off the season of giving, #GivingTuesday is celebrated on the Tuesday following Thanksgiving. The movement encourages families and individuals to give their time, skills, money, or voice to bring about real change in their communities.
Renewal by Andersen is nation-wide, but each individual location has strong ties to the community they are part of. This #GivingTuesday (and throughout the holiday season), we want to encourage everyone to do something to make a difference. As inspiration, here is a sampling of organizations, causes, and events that are near and dear to our hearts:
5K Rememberance Run/Walk (Des Moines)
Renewal by Andersen of Des Moines' employees and their families participated in The Remembrance 5K Walk/Run, an event which raises funds to allow the families of fallen service members to attend a support retreat.
Register for the next Iowa Rememberance Run here.
The Miracle League (Central North Carolina)
For the last five years, Renewal by Andersen of Central North Carolina has sponsored The Miracle League of High Point, a program which provides opportunities to all children with special needs to play baseball regardless of their abilities. This past September, the staff took to the field to work with these children—who, in turn, stole their hearts.
Learn more about how you can partner with The Miracle League this #GivingTuesday.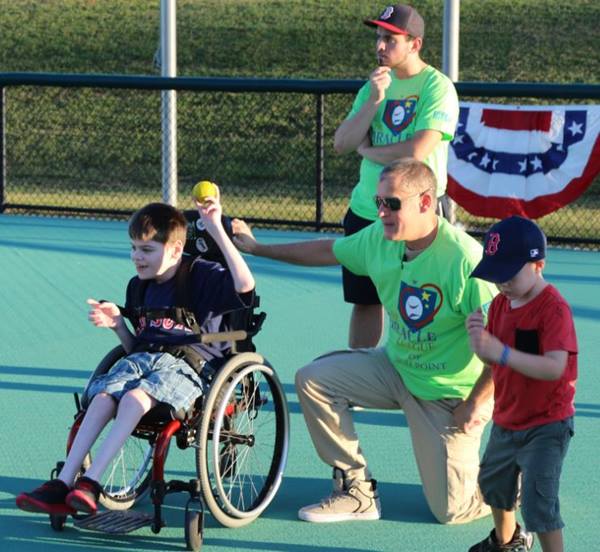 YouthCare (Seattle) and Hope House (Spokane)
Renewal by Andersen of Seattle and Renewal by Andersen of Spokane teamed up for a Day of Giving project. The team in Seattle spent a weekend cleaning up two YouthCare transitional living program spaces in their community. YouthCare is a non-profit that supports underprivileged and homeless youth throughout the community. The Spokane team partnered with Hope House, a shelter for women in need. Each of our teams cleaned up the outdoor areas by landscaping, providing places for people to gather and relax, tidied up the inside of the homes, and planted new shrubs.
Visit YouthCare and Hope House to learn how you can make a difference.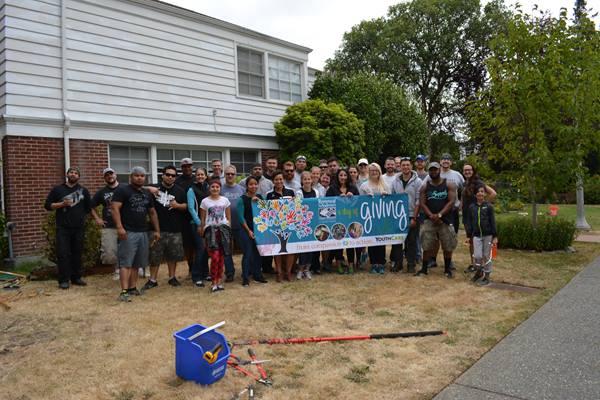 United Way (Pittsburgh)
For seven consecutive years, Renewal by Andersen of Pittsburgh has boasted 100% participating in our annual company-wide United Way campaign. This year, the Pittsburgh team accomplished their goal on the very first day. United Way Worldwide is a non-profit organization focused on creating community-based and community-led solutions that strengthen the cornerstones for a good quality of life: education, financial stability, and health.
There are nearly 1,800 United Ways around the world. Find yours here.
Habitat for Humanity – Anchorage (Alaska)
Renewal by Andersen of Alaska partnered with Habitat for Humanity in Anchorage to transform a home in the community. The team donated the windows for the home and worked together to install them—a true team effort. "It's been a great time, it's an incredible cause, and I think it's really near and dear to us to have the opportunity to help a family with something we do and know so well," explains Renewal by Andersen of Alaska Owner Chris Dunn. You can see how the day played out in Habitat for Humanity's video below.
Every volunteer and donation makes a difference. See how you can help.
House of Refuge (Phoenix)
For years, Renewal by Andersen of Phoenix has been volunteering with House of Refuge, a non-profit organization in Arizona helping homeless families in crisis. This tradition began with a program the local Renewal by Andersen store founded in 2013 called Windows for Change. The goal of Windows for Change is to renovate all of the homes at House of Refuge (most of which were built in the early '70s and have single-pane aluminum windows), thus helping ensure safe, energy-efficient housing for families in times of need. In addition, five dollars from every window sold is donated to the House of Refuge—helping them to make a difference, one window at time.
Learn more about House of Refuge and see how you can contribute.
Adopt a Pig (Greater Philadelphia)
Adopt a Pig is a program designed to help children and their families cope as they face their greatest challenge, fighting cancer, through a variety of support services and coping mechanisms. One such mechanism is called a Coping Kit. Designed to serve as a care package, a Coping Kit contains items necessary to aid in the physical, emotional, and financial struggle that takes place from the time of diagnosis and beyond. A Coping Kit is presented to a family within seven days of a pediatric cancer diagnosis. Renewal by Andersen of Greater Philadelphia was quick to jump in on this initiative. The team raised $17,000 over the summer to pay for the contents of the kit. They also packed the kits and personally delivered them to 12 local children and their families at the A.I. DuPont Hospital for Children.
Join the Adopt a Pig movement today and help provide these children and their families a small measure of comfort.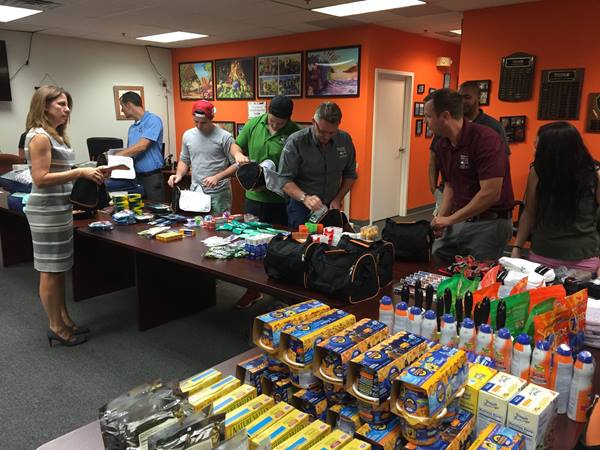 Riley Children Foundation (Indiana)
Renewal by Andersen of Indiana has a special, ongoing relationship with Riley Children's Foundation—just last July the team donated over $8,500 to help with supplies and resources for the IU North Child Life unit. But it doesn't stop there. During the months of November & December, the Indiana team has partnered with Riley Children's Foundation as part of their #GiveHope campaign. For every use of #GiveHope online, Renewal by Andersen of Indiana will donate $1, up to $10,000! This Giving Tuesday is the perfect time to give hope to kids across Indiana.
Today, Riley Hospital is recognized as one of the best children's hospitals in the nation. Learn more about Riley Children's Foundation and #GiveHope.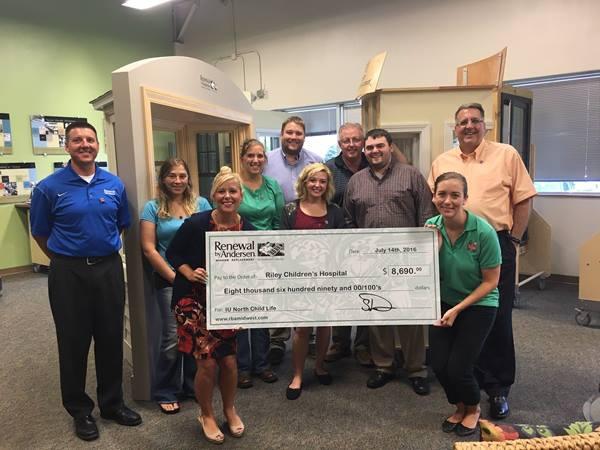 Cincinnati Children's Hospital & Leukemia and Lymphoma Society (Cincinnati)
Renewal by Andersen of Dayton/Cincinnati donated more than $5,000 in August to the Leukemia and Lymphoma Society, Tri-State Southern Ohio Chapter. In November, the team supported the Cincinnati Children's Hospital Medical Center with a $5,000 donation as well. On Giving Tuesday, we're reminded that every donation counts in supporting our community!
You can learn more about the Cincinnati Children's Hospital and how you can give back to the Leukemia and Lymphoma Society this #GivingTuesday.
Make-A-Wish Michigan (Greater MI)
Over the summer, Renewal by Andersen of Greater Michigan partnered with Make-A-Wish Michigan, a foundation that grants the wishes of children with life-threatening illnesses. In August, the team presented a donation of more than $7,000 to the local Make-A-Wish center. The team's donation allowed the organization to sponsor one child and help make their wish come true!
Learn more about Make-A-Wish and sponsor a child this holiday season.
To join the #GivingTuesday movement, take a look at their directory and find a cause, charity, or event in your own community. Then spread the word and inspire others to do the same. Happy holidays!
What others have viewed...

Step 1:
Design Consultation
Our design consultants provide in-home or no-contact virtual meetings to listen to your design needs and provide a plan to improve your home.


Step 2:
Measure & Manufacture
Project Technicians ensure accuracy and answer any last minute questions before sending in the order for your fully customized windows.

Step 3:
Installation
Our Installers treat your home as if it were their own and clean up afterwards.

Step 4:
Customer Care
A robust limited warranty is backed by a commitment to making sure your windows function as expected.