Renewal Phoenix Restores House of Refuge with New Energy-Efficient Windows & Doors
Members of the Renewal by Andersen team work with House of Refuge on National Make a Difference Day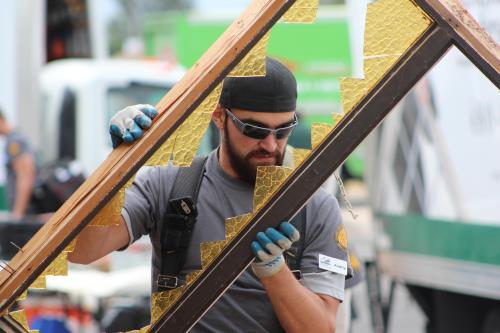 To commemorate National Make a Difference Day, members of the Renewal by Andersen team in Phoenix, Arizona, gave back to the community by taking part in a renovation project at the House of Refuge, a local 501(c)(3) nonprofit organization.

Situated on 20 acres in southeast Mesa (on the site of the former Williams Air Force Base), House of Refuge provides transitional housing and supportive services to homeless families—many of whom are the victims of domestic violence. Since its founding 1996, House of Refuge has served more than 6,000 people, or roughly 2,400 families. On any given day, approximately 100 adults and 150 children call the 82 two-bedroom single-family dwellings at House of Refuge "home."

The October 21 renovation work was made possible by the Windows for Change program founded by Renewal by Andersen of Phoenix in 2013. The goal of Windows for Change is to renovate all of the homes at House of Refuge (most of which were built in the early 1970s and have single-pane aluminum windows), thus helping ensure safe, energy- and cost-efficient housing for families in times of need. So far this year, the team has completed three houses, donating more than $75,000 in products and services. Each home received nine new windows and two new doors.

The partnership between Renewal of Phoenix and House of Refuge is one that both parties are grateful for. Nancy Marion is the executive director for House of Refuge, "Community support is paramount. You can get grants for bricks and mortar, for some of the social service needs, but it's really the community that supports us. And then, you have companies like Renewal by Andersen come out and show support to our residents by showing them that they deserve the best of the best.

"These are brand-new, beautiful energy-efficient windows that are being given to House of Refuge and the families we serve… I am a seasoned professional who rarely is caught off-guard by displays of emotion. But, I have to tell you…when the installers drove off the property [after finishing work], I felt such a bubble of pride well up within me that I couldn't contain it and the tears just flowed."

Says Dow Rigler, operations manager in Phoenix, "The community makes us successful. The community chooses to do business with Renewal by Andersen, and we take our responsibility [to it] very seriously. [In giving back,] in changing windows and doors…we're playing a small part in changing lives."

Since the inception of Windows for Change, Renewal by Andersen of Phoenix has completed work on six houses, for a to-date total of $150,000 in cash, labor, and product donations. According to Marion, House of Refuge has seen a 34% drop in utility costs for the homes that have had Renewal windows and doors installed. Those homes, (all constructed in 1973), now have a lower and more energy efficient HERS (Home Energy Rating System) rating than a house built in 2006.

Want to learn more? Watch a video spotlight on the partnership or check out the slideshow of highlights from the 2015 effort.
What others have viewed...

Step 1:
Design Consultation
Our design consultants provide in-home or no-contact virtual meetings to listen to your design needs and provide a plan to improve your home.


Step 2:
Measure & Manufacture
Project Technicians ensure accuracy and answer any last minute questions before sending in the order for your fully customized windows.

Step 3:
Installation
Our Installers treat your home as if it were their own and clean up afterwards.

Step 4:
Customer Care
A robust limited warranty is backed by a commitment to making sure your windows function as expected.